Quality From Design to Final Product
Where Great Ideas Become Great Products!
New Product Development (NPD) is an integral part of how we bring new solutions to market.
Our R&D and Sales teams always searching for latest market information from RVIA, RVAA, RVDA, NATM, NATDA to fulfill customers creative ideas & new products' demands.
We not only innovate & design new products, we also focus on product availability, lightweight solutions & environmental issues.
The R&D team works closely with the sales team as the direct link to the customer. Our products always surpass our customers' expectations.
We have more than 40 years background experience in producing various locks & deliver expertise in engineering and product development to tailor our products to the specific needs of each market segment.
Partnering with our clients in the development of their products
Pro / Engineer / Solid Works
3D Drawing, Industrial, Mechanical Design, Mechanical Parts simulator.
Auto CAD
2D Drawing, Design Confirmation with Customers & suppliers.
Render Software
Product Visual Prototype before Tooling.
RP 3D Printing
Physical Prototype Pre Tooling.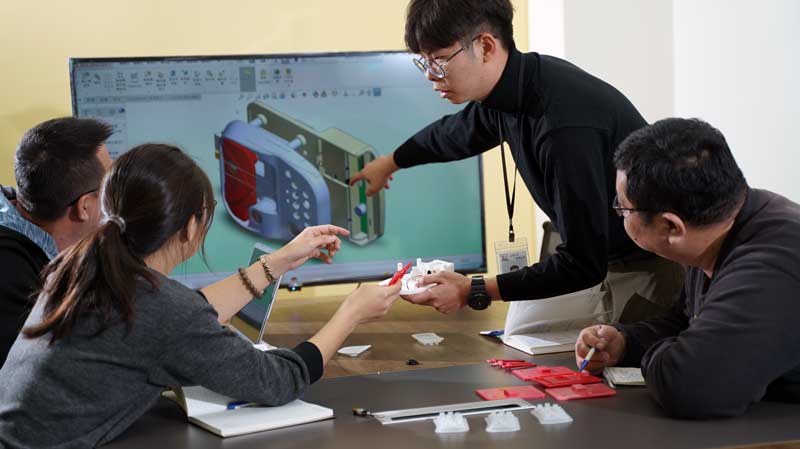 We want your trust. Over the long term.
Committed to Quality Assurance
We are ISO certified company and we follow the spirit of ISO to produce and control our products.
As a high quality lock manufacturer we are committed to quality assurance.
Our employees, from management through individual departments,  are dedicated to supplying our customers with quality parts on every job and at each step of the manufacturing process. 
Exact - Defined - Verified
Most people would agree, the concept of quality is subject to a lot of interpretation. It can mean different things to different people and in different contexts.
However, as a product manufacturer, our goal is to achieve quality that is exact — a state that can be defined, verified, and reproduced again and again.
ISO 9001 defines Quality Assurance as being: "Part of quality management focused on providing confidence that quality requirements will be fulfilled."
On Time - First Time - Every Time
At RV master we understand the cost of poor manufacturing quality is high. Rework, scrap, product failures and recalls can severely damage a business through inefficiencies, delays, direct costs, and customer dissatisfaction.
Working with us you can expect products delivered on time, first time and every time to achieve and maintain competitive standing in global markets.
Manufactured internally. Assembled internally.
High-quality, cost-effective and efficient production lines takes careful planning and considered questioning.
By paying attention to details in process flow, establishing standards, and inspecting results, our engineers can design assembly lines that are effective & produce high quality products.
Benefit from our Flexibility
With a large manufacturing floor, and multiple assembly lines we offer great lead times and flexibility to your project. 
We integrate a large number of testing and inspection stations into our production lines to maintain our certified, high-quality standards.
RV Master
In-House Capabilities
Our facilities include a tooling dept. die casting and stamping dep. and a large warehouse to store components.
Get in touch with one of our project managers to create your own brand and
custom specifications for your clients.